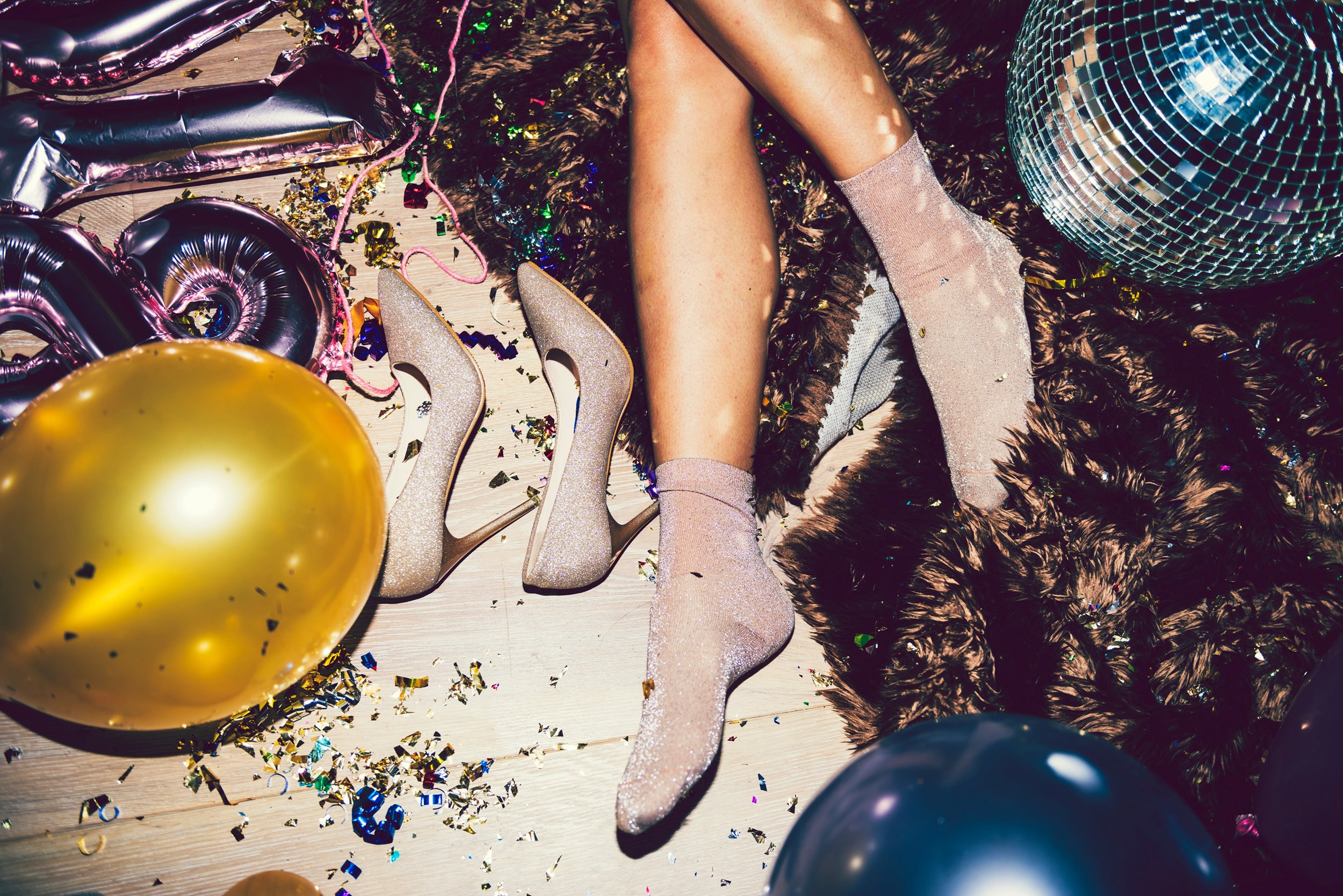 Fashion Guide: How to Party your Socks off This NYE
by: Laura Taylor | Published: Dec 30, 2022 | Updated: Jan 12, 2023
Reading Time: 5 minutes
New Year's Eve is a special time of year. It's a celebration in which everyone comes together, regardless of religion, race, or age. On the 31st of December, billions of people countdown in unison to welcome a prosperous new year.

It's also a great time to show off your sense of style and have fun with your outfit choices. After all, you want to start your year with your best sock forward. In this fashion guide, we will share all our best tips and tricks to help you party your socks off into 2023!

Keep reading to find out what they are.
Table of Contents
Sock Styling: The Basics
Before we start breaking down our style guide, it's worth going over the basics of sock styling. Learning how to style your socks is not as simple as it looks. We even dare to say it's an art form.

For many, socks are simply a piece of fabric protecting their feet from their shoes. However, there is so much you can say with a pair of stylish (or outrageous) socks. It's the ultimate way to inject an extra dose of personality into your look, so don't make your sock choice an afterthought.
Choosing a Sock Length
The length of your socks should primarily depend on the type of outfit you are wearing. If you're going to wear shorts or boating shoes, we recommend you opt for the no-show sock. However, our favorite sock length is mid-calf which can be paired with just about anything. From sneakers to dress shoes, it's the ideal sock for most looks. 
Picking a Sock Pattern
There are hundreds of models to choose from when picking a sock pattern; however, the most classic styles include argyle, polka dots, and stripes. As a rule of toe, we recommend you avoid matching your sock pattern to your outfit. For example, if you're wearing a striped shirt, stay away from matching striped socks.
Instead, go for a solid color that mirrors your outfit. If you love showing off your personality with a pair of novelty socks, we suggest you tone down other aspects of your outfit.
Finding the Ideal Material
Lastly, you'll need to find the ideal material for your socks. This aspect of sock styling is essential - albeit frequently overlooked. If you're looking for the safest option, we recommend a cotton blend that is lightweight and cool. For those who want a warmer option, we suggest you find a pair of thick wool socks to keep your toes nice and toasty.
New Year's Eve Traditions
As we previously mentioned, New Year's Eve is a celebration that unites people across the world. This means there are plenty of weird and wonderful new year's traditions - some of which involve socks!


In countries like Spain and Italy, people wear red to manifest good luck and fortune. Rather than planning their whole outfit around this superstition, many people choose to pick out a pair of red socks or underwear. Ideally, your red item should be a gift from a loved one. Plus, in some parts of Europe, it's bad luck to wear an old pair of socks as you enter the new year.
What to Wear on New Year's Eve
Now we've covered a few of the basics of sock styling, it's time to apply these ideas to different New Year's Eve events. We may all celebrate New Year's, but that isn't to say we all love doing the same things.

Some prefer to go all out until the early hours of the morning, whereas others would rather curl up on the sofa with a great movie. No matter how you choose to celebrate this New Year's Eve, here are five mini style guides to help you feel as fashionable as possible!
Festive Fair
Christmas markets are one of the best parts of the season! Sadly, most of them close as soon as we enter the 1st of January. New Year's Eve may be your last chance to enjoy the fair rides and rock your Christmas socks with pride. It'll probably be chilly, so take your thickest pair!
Dinner Party
For those planning a more intimate New Year's celebration with close friends and family, we recommend you pick out a sophisticated yet fun pair of socks. If you want to usher in plenty of good fortune for you and your loved ones, don't come empty-handed - bring a few pairs of red socks along and hand them out as gifts.
Fireworks Show
One of the most traditional ways to spend New Year's Eve is watching the fireworks show. Most towns and cities will have their own version of the event, so it's a great way to get involved with the local community. If you're looking for some New Year's socks, grab a fun pair with fireworks or champagne bottles.
Formal Gala
Another great way to start the new year is by attending a formal gala. Think champagne, caviar, and black-tie attire. If you're attending a special event, we recommend you stick to a classic and fashion-forward sock style. For example, a timeless pair of argyle socks in a muted color.

Big Night In
Last but not least, many of us are incredibly content with celebrating this annual event from the comfort of our homes. You can curl up on the sofa with a warm fuzzy blanket and a hot cup of cocoa. What's even better - you can wear whatever socks your heart desires! Whether you pick your most embarrassing pair of novelty socks or your oldest pair of fuzzy ones, we promise we won't judge!
How Would You End the Year?
No matter how you decide to welcome the new year, make sure to let your socks do the talking. Try to take our style tips on board and we're sure your socks will be the center of attention (for all the right reasons).

From the team at Sockologie, we would like to wish you a very happy new year! Don't forget to check out our store and find the perfect pair of socks for the occasion. We have hundreds of shapes, patterns, and sizes for you to choose from.

Ready to find the perfect pair of socks for New Year's Eve? Make sure to browse our store! We have thousands of designs in various shapes, sizes, and patterns.