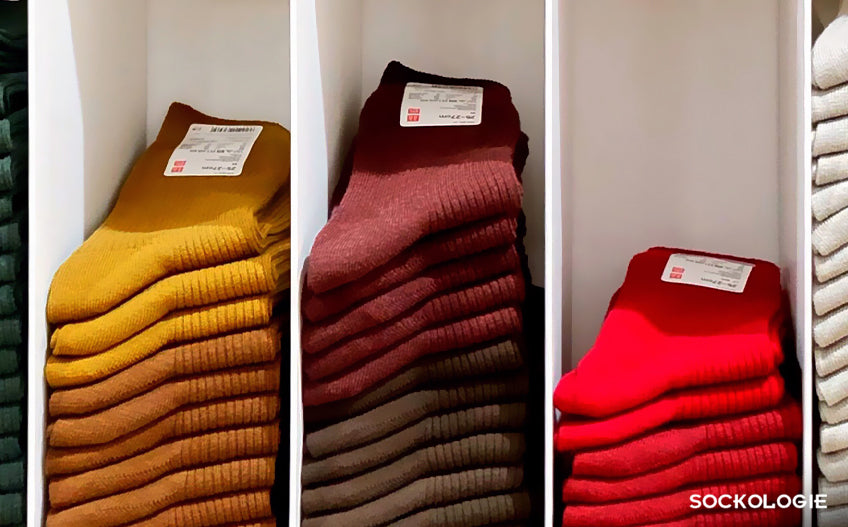 The Ultimate Sock Size Chart for Both Men and Women
by: James Parsons | Published: May 12, 2022 | Updated: Dec 30, 2022
Everyone knows about shoe sizes. If your shoes aren't within half the size of your feet, they end up uncomfortable to wear for any length of time. Did you know that socks have different sizes too?
Socks come in a range of sizes, and while most people think the size range is their shoe size, that's not the case. Sock sizes tend to be much larger size bands than shoes. They're a more elastic fabric and can comfortably fit both smaller and larger feet.
That said, some socks aren't quite "one size fits all."
Let's dig in!
Table of Contents
What Happens if Your Socks are the Wrong Size?
Before getting into the specific sock sizes you may have available, it can be worthwhile to explain why you should care. If you've spent much of your life buying whatever socks seem right and wearing them, you may never have realized there are precise sock sizes. After all, the most common kinds of socks come in 12-packs at the local department store and cover such wide ranges of sizes they're meant to fit as many people as possible.
If you've ever tried to wear too large or too small socks, though, you know that it can be a pain. Sometimes literally!
If your socks are too small, they'll be uncomfortable. They can be overly tight, especially when they're new, leaving imprints on your skin, especially around your calves. They can even be painful or cut off circulation in extreme cases, almost like poorly-designed compression socks. Since they aren't made for even pressure, they feel uncomfortable.
Moreover, those socks will stretch out quickly after wearing them a few times. They'll become more comfortable to wear, but that doesn't mean they'll ever be comfortable, but they won't be tight enough to hurt anymore.
There's a problem, though. When your socks stretch out, it breaks fibers and permanently stretches the elastic in the socks - this means they will quickly lose their tautness and ability to hold their shape. They'll get baggier and baggier until they have trouble staying up - this is a bigger problem with calf-length, crew-length, and other longer socks, which you don't want to fall and bunch up. It's also a problem with socks that fall and bunch up by your heels or toes. Nobody wants to be wearing half a sock.
If your socks are too large, you skip the "stretching out" part and end up with socks that fall down. They might bunch up around your ankles, or they might fall down into your shoes and bunch up around your toes. Either way, they won't offer the protection you want.
Now, this is a design feature on some kinds of socks. If you've ever seen a thigh-high sock with a garter belt holding it up, that's what you're looking at. Those socks are too big, and people's legs are too varied to be designed to be worn comfortably without falling down. So, an accessory is used to hold them up. But you don't want to be wearing a garter for your everyday socks, right? Of course not.
It pays to get socks in the right size! Socks that are just the right size are tight enough to hold themselves up but not so tight they're painful to wear. They also won't stretch out nearly as quickly, so they last longer.
What Sizing Choices do You Have?
Sock sizing is relatively complicated. There are generally at least four different ways of sizing socks. One of them we'll cover in a bit.
First, you have shoe size comparisons. Many of the mass-produced socks out there have a size range that references your shoe size. For example, if you wear a men's shoe size 10, you'll look for socks that say "Fits shoe sizes 9-12" or something along those lines. The more mass-produced the socks, the larger the range will tend to be, though some socks will be more precise. It depends on where you're getting your socks.
Second, you have the length of your foot in inches. Some socks say something like "fits feet 9" to 11"." Many people think this means shoe sizes, but while it's similar, it's not the same. It refers to the length of your feet, from heel to toe. 
You can measure your own feet pretty quickly. You have a bunch of different options to measure them.
The paper method. Take a piece of paper and stand on it. Using a marker or another easy drawing tool, outline your foot. Then, take a ruler or tape measure and measure the length from your heel to your toe. This measurement, in inches, is your foot length.
The tape measure method. If you're flexible enough to cross your legs, you can measure your feet directly. Just hold up your foot (while sitting) and use a ruler or tape measure. Measure from the back of your heel to the tip of your toe, in inches, to get your foot size measurement.
The shoe fitter method. This one involves leaving your home, but that's fine. Most stores that sell shoes will have a tool that 

looks something like this

. It's called a Brannock Device, and it's a complex set of rulers to measure the exact dimensions of your feet. It's primarily designed to get a precise shoe size for you, but you can use it for length measurements for your feet.

The wall method. For this one, you need a wall you can back up against. Press your heels against the wall, and put some marks at the tip of your toes. Then, use a ruler to measure the distance from the wall to the object to get the length of your foot in inches.
The string method. Take a string or piece of yarn or twine. Hold one end at your heel and pull it out to your toes. Make a mark there, and measure how long that bit of string is.
Whatever method you use, you'll end up with your foot length in inches, which you can then use to buy socks that fit feet within a particular range. This measurement is often more precise than the shoe size measurement, but it's still close enough.
Third, you have letter sizing - this is the least precise because what do the letters mean? Well, it varies. Socks usually range between XS and XXL, though you might be able to find XXXL and larger in specialty stores. The downside of letter measurements is that you still need to convert them into something you can use, so you'll want to look at a sizing chart anyway.
What About Non-U.S. Sizing?
Inches? Shoe sizes under 20? Get that U.S. nonsense out of here! European shoe and sock sizes use a different method entirely, and it tends to result in more significant numbers than what people in the U.S. are used to.
You might think that Euro sock/shoe sizes are measured using centimeters, but that's not the case, just like U.S. shoe sizes aren't plain inches. It's a bit tricky to calculate, and is based on the length of barley grain, called a barleycorn. The barleycorn system is still in use in some places! (And you thought the U.S. system was based on nonsense…)
The other system is similar and is called the Paris Point system. One Paris Point is about 2/3rds of a centimeter. So, if you measure your foot length in centimeters and multiply it by .66, you'll get your Paris Point shoe size. Why two-thirds? Nobody knows.
You can roughly estimate your sock or shoe size in Euro sizing if you know your U.S. sizing. Take your shoe size and add 33 (for men's) or 31 (for women's), and you'll get something close to your European shoe or sock sizing number.
If you're shopping for socks direct from the manufacturer, there's a decent chance you'll be looking at a similar number, but not quite the same. Many socks are made in China, and the Chinese sizing system is again just a little bit different. Chinese foot size uses increments of 5 millimeters for one "point," so a shoe size of 40 would be 200 millimeters long, or a bit under 8 inches.
Finally, you might encounter one more shoe sizing chart, and it's called Mondopoint. Mondopoint was developed as a global standard and is currently used by NATO and various militaries, and many global and international athletic shoe manufacturers.
Mondopoint is simple; it's just a measurement of millimeters. Mondopoint also measures foot width, which allows for more accurate measurements and fitting for shoes that see heavy use.
You're almost definitely not going to find socks measured in Mondopoint. That's more relevant for shoes. However, if you know your shoe size in Mondopoint, you can easily convert it into any other sizing chart and, from there, find your ideal sock size.
Are Socks Gendered?
We've mentioned men's versus women's sizing a couple of times. Obviously, for shoes, this is a pretty big factor. What about socks?
Well, not all socks are gendered, but some are. Here's an example:
These two socks are the same designs, but each one has different color options, and the sizing charts vary. The women's socks fit sizes 4 to 10.5 in U.S. shoe sizing, while the men's socks fit shoe sizes 6 to 12.5. These are pretty wide ranges since these socks are very stretchy and can fit pretty much any foot.
It all depends on how precise you want your socks to fit. For most socks, you don't have to worry about the differences between genders. That said, some kinds of socks will be shaped better to fit the feet of one type of foot or another.
Our socks are mostly one-size-fits-most to avoid having to handle various sizes. At the same time, sock designs vary so much that you can never entirely be sure just how socks will fit. We recommend buying a pair or two and seeing how they fit before investing a lot into any given brand or sizing. If your feet are on the extreme ends of large or small, you'll probably want to shop elsewhere.
Finally, you have kid's socks. Kid's socks are much smaller than other socks, though giant kid's socks and the most petite women's socks overlap somewhat. Kid's socks are not gendered since kids' feet don't have significant gender differences.
An Example Chart
Since you're probably in this for a chart, here's a simple example of such a chart:
As you can see, there are many different ways to compare your shoe or foot size to a sock size, and it varies from vendor to vendor, manufacturer to manufacturer, and country to country. Though most people will fall between an M, L, or XL sizing, some socks are even categorized more broadly. It's tricky to predict what you'll find comfortable, so why not buy some socks and see what fits the best? I guarantee we have something for everyone in our store.
Do you have any questions for me about sock sizing? Have you had trouble finding socks that fit correctly and don't bunch up (or fall) on you? Please share with us! We'd love to hear from you, and our support team would be happy to help you find your next pair that will fit you perfectly. We have hundreds of different designs, so say goodbye to the dozens of monotone ill-fitting socks.