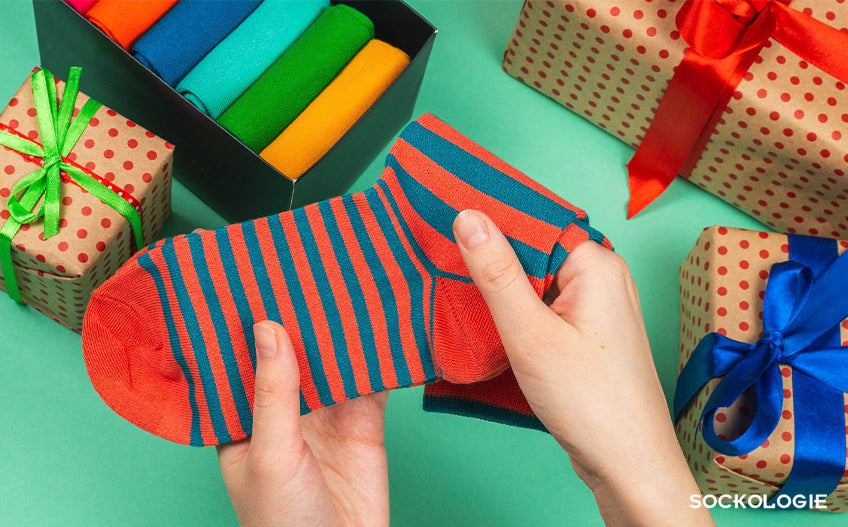 20 Reasons Why Socks Make Great Gifts (With Tips)
by: James Parsons | Published: May 25, 2022 | Updated: Dec 30, 2022
Flashback to Christmas morning. You're 11 years old, and you're excited about all the cool toys and trinkets you're sure to have to wait for you under the tree. Everyone's there, and you're near-vibrating with anticipation. Finally, grandma hands you her box. With a gentle smile, she encourages you. "Go ahead, open it." You do, and inside… is a pair of socks. Already, you feel the crushing disappointment. Christmas is ruined! How can you possibly come back from this?
Hindsight is 20/20, and childhood disappointment was perhaps unnecessary and extreme. There were still plenty of other gifts under the tree, but if you're honest, you wore the socks more than you ever played with the toys. 
And, of course, these days, just about anyone could use a nice pair of socks. Gifts with utility are better than gifts you're going to play with once and leave sitting on a shelf or in a box, right?
We're here to tell you that socks make great gifts for nearly any occasion. Maybe they aren't quite perfect for a childhood gift for Christmas, but their parents or even older siblings? Sure! We may be a little biased, but by the end of this post, you should have a pretty good idea of why we love socks and why you should too.
1: Socks Are Cheap
Socks are cheap, but they aren't cheap, you know? They're inexpensive, but that doesn't mean they lack quality. A good pair of socks can last years of regular wear, making them one of the best possible gifts from a sheer money-per-hour-used standpoint. What other gifts can live up to that kind of ideal? Not many.
Socks can be a great alternative to pricier gifts. They're affordable enough that they easily fit into most budgets. Plus, they're appreciated year-round—not just at holiday time—so you can gift them whenever you want. In addition to being affordable and functional, they are usually loved by everyone.
2: Socks Are Warm and Cozy
How could you deny someone warm and cozy feet? What's better than pulling on a nice, fluffy, comfortable pair of socks on a chilly winter day? Pretty much nothing, as far as we're concerned.
There's no better way to say I care about you than giving someone a pair of socks as a gift. Whether you're getting plush, knee-high wool socks or thinner, smaller novelty socks, they cover your feet, help insulate you from the elements and make it that much more comfortable to exist in the world. Sometimes, that's all you need from a gift.
3: Socks Can Be Luxurious
Some of the best socks on the market are an unbelievably luxurious experience. We're not just talking about those high-end designer socks that have a fancy logo sewn into them; we're talking about socks made with top-shelf materials, perfectly shaped for your feet, and just the right balance of cozy and tight.
Sure, it might take a couple of tries before you dial into your perfect sock, but you'll wonder why you ever asked for any other gift once you find it.
4: Socks Have Utility
Socks aren't just there to look nice. Socks work for a living. They do their duty, no matter what that duty is. Some socks make you as warm as can be. Some show off your wild side.
Some keep your legs protected from the harsher elements, and some keep your feet nice and dry when you're pushing the boundaries of physical activity. No matter what you do in your daily life, for work or leisure, there's a sock that can support you along the way.
5: Socks Can Fit Many Purposes
Some socks are warm and cozy, while others have legitimate medical uses, like compression socks or socks for diabetic feet. That's the beauty of socks; they fill many different roles and serve different purposes, so long as those roles and objectives revolve around your feet.
That's one body part taken care of; now, you just need to figure out what to do with the rest of yourself.
6: Socks Tie a Theme Together
We all have friends who are big into something. Maybe it's model trains, or perhaps it's video games. Maybe it's sports. Whatever the hobby, we can guarantee you that there's a sock with a perfect design for them.
We sell most of them in our shop; all you need to do is plug a keyword into that friendly search bar and find a wealth of socks with patterns you'd never expect. Just find the right one for your friend (and maybe a pair for yourself, while you're at it), and you'll have the perfect gift ready to go.
7: Socks Get Used Daily
Can you think of any other item you might give as a gift that would get used every day? There's not a lot. Maybe dishware or another clothing item.
Sure, you don't wear the same pair of socks every day unless you do laundry for your socks daily. But that's why you get multiple pairs of socks! Then you have one for each day of the week. What more could you ask for?
8: Socks Can Help Foot Health
Socks are, honestly, the unsung heroes of foot health. We don't just mean medical socks like compression socks, either. A good, trusty pair of socks will pull far more than their own weight in keeping your feet healthy and happy.
Even plain old vanity socks can play an essential role in keeping your feet warm and dry, which helps you prevent problems like cold feet (or even frostbite), foot fungus, or other related ailments.
9: Socks Show How Well You Know Your Friends or Family
One of the biggest complaints about socks as a gift, especially on holiday, isn't really that they're socks. It's that they aren't exciting socks. A plain old pair of white crew socks you picked up at the department store? Of course, those are going to be boring.
You need a good pair of socks that fit the person you're giving them to. Socks that say, "I put thought into this gift." Socks that show how well you know your friends and family. 
10: Socks Can Be Used Immediately
Socks don't need batteries to power them up or software updates to download or assembly before you can use them. They're ready to go as soon as they're unwrapped.
Your friend or family member can pull them on immediately and enjoy them all day. You might want to make sure you run them through the wash before you hand them over if you expect them to be worn, but that's not a difficult task, and it might not even really be necessary.
11: Socks Can Come with Extras
Socks aren't always just socks. A pair of socks can hold a toy, a gift card, or even information about a sock subscription service (since those exist). You can make up a whole gift pack with little trinkets or other gifts with socks.
That's the beauty of socks as gifts; they can stand on their own or be part of a more significant gift, and they work equally well in both scenarios. 
12: Socks Are Built to Last
Socks last a pretty dang long time. There are only a few ways a pair of socks can be rendered no longer valuable as socks. They might wear through over the years, end up with holes torn in them, or stretch out and have the elastic lose its elasticity.
Still, you can repurpose them as stuffing in a hand-crafted fabric toy, sewn smaller into pet socks, or even mended. A good pair of socks can last several years, or maybe just a single year if they're worn nearly every day. That's a lot of use!
13: Socks Can Be Appreciated for Years
More so than the longevity of the socks themselves, gifted socks carry with them the appreciation of a good, helpful gift every time they're worn, and even more so in the memories once they're gone.
Every time your giftee wears their gifted socks, they'll think about you and appreciate your thoughtful gift. Once they're gone, you'll remember the friend who got them for you every time you think about those comfy, cool socks you had. They are the gift that keeps on giving.
14: Socks Come in Infinite Forms and Designs
For a simple, tube-shaped covering for the feet, socks sure do come in many different forms, don't they? There are over a dozen different sizes of socks with various purposes.
Socks also come in various materials, thicknesses, and utilities. On top of that, socks can have any possible pattern or design you could ever ask for. 
15: Socks Can Be Fun to Collect
Everyone has something they like to collect, whether it's trading cards or remarkable rocks or models of World War II airplanes, or something else entirely. Something else - like socks!
Since socks come in many different designs, it can be a great and inexpensive hobby to collect socks. Plus, if you use the proper folding method, you can even keep them on easy display to show off to fellow sock enthusiasts. 
16: Socks are Great (and Ironic) Stocking Stuffers
Ironically, stockings are a kind of sock, even if they're primarily ornamental and hung up on the mantelpiece precisely to be filled up with gifts around Christmas time.
Putting socks in those stockings adds a layer of humor to the situation, on top of the already-clever and amusing sock choice you've picked for each person getting a stocking. Socks also help fill out and give bulk to the stockings, making it harder to guess what's in them and fill them out more.
17: Socks Are Never Sold Out
One of the brilliant things about socks as a gift is that, no matter how precise you want to be and how thoughtful your choice, they work as last-minute gift ideas. Socks are commonly mass-produced and always available, no matter how rocky international shipping gets or how rough the economy happens to be.
Socks are always available when you find them from your favorite online sock vendor (that's us, right?), or you pick them up from a novelty store on your way to a party.
18: Socks Are Easy to Mail
Socks are small, light, easily compressed, and easily packed away. You can even use them as packing material for other gifts you don't want to bounce around in a box.
They can serve multiple purposes even before they reach their destination! They're cheap and easy to mail, either independently or as part of another parcel. 
19: Socks Can Support Causes
Throughout our lives and around the world, some people make a difference. Whether they're public servants, teachers, medical workers, or simply our elders, those people deserve something nice.
That's why we offer discounts for socks for those folks and more. We're not the only ones; many socks can funnel part of their purchase price to charitable causes or otherwise support your favorite forms of activism. 
20: Socks Are Often Overlooked
When was the last time you bought a pair of socks for yourself? You were running low on comfy socks, and you knew you needed new ones, but you put them off until you had no alternative. Well, most people are like that, which means socks make great gifts because they're helpful and extra thoughtful.
Relatively few people even think to buy themselves socks until there's no other choice, so when you give them a pair, they'll be set for another year or more. 
Wrapping Up
What do you think? Are you convinced that socks are among the best possible gifts you can give? They're great for everything from Christmas to birthdays to special occasions. No matter why you're celebrating, a pair of socks can be right there with you, both as part of the celebration and as support for the party. All you need to do is find the right socks, so go ahead and click through to our store and browse the many different designs we offer.