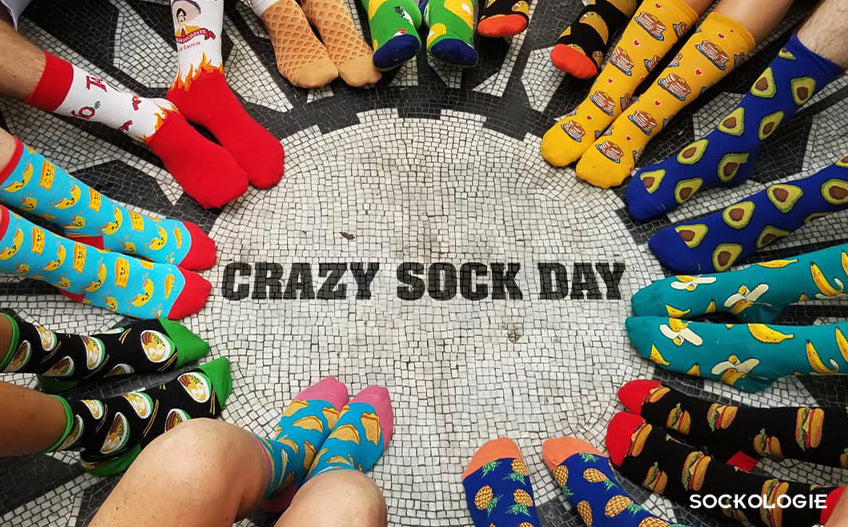 Crazy Sock Day: What Is It and Why You Should Participate
Sometimes, it seems like every day is a holiday. When you consider federal and national holidays, "Hallmark" holidays, religious holidays, awareness holidays, and gimmick holidays - every day IS a holiday. Some are just more important than others.
Believe it or not, Crazy Sock Day, also known as Silly Sock Day, is one such important holiday. You might think it's just another random holiday thought up by people who want to sell socks, but that's not true.
The truth is, Crazy Sock Day is an awareness holiday. It's not a day you'll take off work – quite the opposite – but it helps raise awareness of a specific condition affecting thousands of babies every year.
That condition is Trisomy 21, also known as Down Syndrome. What is its connection to crazy socks? Read on to find out.
Down Syndrome Awareness and Crazy Socks
Humans have 46 chromosomes, long strands of DNA that guide the creation of cells and the development of the entire body in the womb. Chromosomes are paired; you have 23 individual chromosomes in sets of two. Twenty-two of those pairs are identical, while the 23rd is the XX or XY pairing that determines biological sex.
Some small fraction of the population – one in 700 babies born each year – has a third copy of one of those chromosomes, specifically the 21st chromosome. Hence the name Trisomy (three chromosomes) 21 (the 21st chromosome). The term Down Syndrome comes from the doctor who first thoroughly described the condition: John Langdon Down.
Where do the socks come in? Don't worry; we're getting to that.
When you look at chromosomes very closely, they tend to have distinct shapes and come in pairs. Each one has a different length and shape to it. Chemical staining to help identify them gives them a striped look. The 21st chromosome, when you look at it the right way, kind of looks like a sock. Striped socks, hmm, sounds familiar, right?
Someone had the brilliant idea, sometime in the mid-2010s, to associate Down Syndrome Day with socks, specifically crazy socks with bold, bright patterns. As a marketing gimmick and attention-gathering tool, it worked.
When Is Crazy Sock Day?
Crazy Sock Day is March 21st. Here is why. Down Syndrome Day occurs in the third month of the year (to represent three copies of the chromosome) and on the 21st day (which means, of course, the chromosome affected.) Thus, March 21st is National Crazy Sock Day, also known as Down Syndrome Awareness Day. The day was chosen in 2005, but the addition of socks to the mix didn't happen for another near decade afterward.
Why Crazy Socks?
Socks are usually an understated aspect of our outfits. Millions of people wear simple, single-colored socks every day. Anything out of the ordinary becomes visible and can draw both attention and conversation.
When you wear crazy socks, you invite people who see them comment on them. If you wear crazy socks every day, that's not meaningful. But, if you only wear them for special occasions, people might ask why you're wearing them.
This holiday allows you to discuss the realities of Down Syndrome, the observance of the day, the challenges that people with the condition must overcome in their daily lives, and more. It can segue into fundraising, awareness, or even just a conversation. 
What makes a pair of socks "crazy"? Well, that's for you to decide. Anything outside the norm of what you usually wear and what's allowed by your dress code is good enough. That might mean wearing bright colors that aren't plain white or black for some people. For others, it might mean going wild with patterns, stripes, or designs based on anything from classic novels to candy bars. We have it all in our store, so check it out to find crazy socks that are perfect for you.
More Than One Crazy Sock Day
While Down Syndrome Day is the most visible and prominent of the crazy sock days, as it turns out, wearing wild socks is a pretty standard way to add a quirk to an activism day with a low barrier to entry. After all, nearly everyone can afford a pair of crazy socks to wear for a special occasion, right?
As such, Crazy Sock Day has become a trend in various communities worldwide as a form of awareness and activism for various purposes.
Another prominent version of Crazy Sock Day is January 24th, when an annual Crazy Sock Walk is organized to support a variety of conditions, including Gastroparesis, Mitochondrial Dysfunction, and Ehlers-Danlos Syndrome, and Complex Regional Pain Syndrome. 
May 19th is another variation on the Crazy Sock Day theme as another kind of awareness holiday for the Allergy and Asthma Awareness Initiative. See? We weren't kidding when we said that a crazy sock day is a common way of celebrating an awareness holiday.
The U.K. also celebrates Odd Socks Day, which takes place on the third Monday of November every year. It's a similar outreach and awareness event, but rather than supporting a genetic condition; it's aimed at anti-bullying awareness and activism. It's not as prominent or popular outside of the U.K., but that doesn't mean you can't wear some funky socks and start the conversation locally.
Want a day to let your hair down and show your wild side in a still corporate-approved and minimally-distracting way? Crazy socks are one way to go about it - this is, of course, a lot more prominent in businesses where there's a strict dress code most of the time. Crazy Sock Days also crop up as corporate "fun days" in businesses worldwide.
On top of this, crazy socks go great for all of your "standard" holidays. Who doesn't love a fun-themed pair of socks for Christmas, Halloween, Valentine's Day, St. Patrick's Day, or any other commonly-celebrated holidays across the country? Whether it's a funny color or a wild pattern, there's something to fit every possible day you could want to celebrate. All you need is a pair of socks and a plan, and any day can be a crazy sock day.
How to Celebrate Crazy Sock Day the Right Way
If you're interested in one of the many possible Crazy Sock Days, you must prepare to celebrate.
First, know when it's coming! Whether you're going to a January 24th march, the March 21st awareness day, or a corporate-sponsored crazy sock day, you need to know in advance that it's coming. That, or you can keep a pair of crazy socks on hand, just in case. Who among us doesn't have a couple of emergency socks? That's just called being prepared.
Second, do your research. It's not enough to wear some crazy socks; you need to know why you're wearing them. If it's just a corporate "let your hair down" relaxation of the dress code, that's one thing. If it's a specific kind of activism, it can be a good idea to research the topic and figure out what you're supporting.
You may also consider donating or contributing to relevant organizations, though that's always your prerogative to decide as you will.
Another thing you might want to do is research if there are any specific themes, connotations, or designs you should wear.
For example, in addition to crazy socks, Down Syndrome awareness often uses yellow and blue. Since your socks don't need to match, you might pick up a pair of mostly-blue socks and a pair of mostly-yellow socks and take one of each on your daily journey - this works exceptionally well because you and a friend can share socks, and both have the perfect pairing!
All you need to do is wear your crazy socks and encourage conversation about the topic at hand, whichever cause is sponsoring your crazy sock adventure. You can even take pictures of your crazy socks to share on social media to help build awareness and push a hashtag into trending territory.
Some people also choose to wear a third sock for Down Syndrome Day to represent the three copies of the chromosome. You can feel free to join them!
What Are the Best Socks to Wear for Crazy Sock Day?
There's no wrong answer!
If the event you're participating in has a specific color palette recommended for awareness, you can go with that. There are all sorts of yellow and blue socks to choose from, including everything from simple solid colors and stripes to goofy patterns and silly artwork. 
On the other hand, the celebration's core is just wearing crazy socks. Anything outside the ordinary for you, anything with bright and vibrant colors, works how you need it to work.
The only thing we might recommend is wearing longer, more oversized socks than you usually might, especially if you're typically wearing no-shows or ankle-cut socks. Crew socks and longer have more space to show off their patterns and are better conversation-starters than socks you can't see, right?
Other Ideas for Crazy Sock Day
There's more to socks than just wearing them.
If you're in charge of putting together a Crazy Sock Day celebration, here are some ideas you can do to spice things up.
The Crazy Sock Fashion Show. Set up a makeshift runway, bring in the team, and have everyone strut their stuff and show off their crazy socks. Participation is optional, of course – you don't want to make anyone feel bad – but you might consider having a few extra pairs of socks on hand for people who missed the memo and showed up in their plain white crews.
Sock Arts and Crafts. Socks don't have to be worn on the feet - they make an excellent base for arts and crafts, including bean bags, mug cozies, chia pets, fake doughnuts, scent satchels, and leg warmers, arm warmers, coin purses, and much more. You can supply the socks, tools, and patterns or have everyone bring their well-loved socks to repurpose.
Sock Donations. Did you know that socks are among the most-requested items by homeless shelters and outreach charities? Plenty of groups and organizations would love to have extra socks to hand out. You don't want just to hand off old used socks, but you can fundraise for packs of new socks to donate in the name of your company or organization.
Crazy Sock Raffle. Crack open a bunch of unique, crazy socks and hand them out like raffle tickets. One goes to each person, and the matching sock goes in a box for the drawing. When you draw a sock, find the person wearing its match and tell them the good news: they're the winner!
Sock Socialization. Mix and match various pairs of socks and hand them out, asking each person in your group or event to put them on. Then, task everyone with seeking out the people wearing their matches, and have a bit of a conversation. Try to get to know them, make a new friend, and bond over the incredible experience of wearing some crazy socks.
DIY Crazy. Supply everyone with two things: a pair of plain white socks and the crafting tools necessary to jazz them up. Let everyone decorate and dye their socks into wild and crazy patterns, and see what everyone comes up with. Or, if the hands-on crafts are too messy for your organization, hand out paper socks and various coloring and decorating tools.
All you need to do to celebrate Crazy Sock Day is do something with crazy socks. Whether you're building awareness for a genetic condition or just loosening up the dress code at work, there's something for everyone.
Next time it's warm enough, don't be afraid to break out those crazy socks. Whether they are funky and bright or crazy and colorfully crazy, a great pair of funky socks can add an element of style to any outfit. Most importantly, though, know that a single sock isn't going to make or break your day. At its heart, Crazy Sock Day is about having fun and being goofy with friends.
Don't have crazy socks? Why not browse our store? Check it out! We have hundreds of designs in various shapes and sizes for you and your family, team, staff, or group.